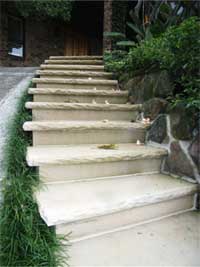 Sacred Stone Landscapes provides a complete landscaping service, from design to construction, creating quality gardens to enhance peoples' properties and lifestyles.
We are a small company that offers a prompt, reliable and friendly service with a focus on quality and attention to detail.
With over ten years of experience in the landscaping industry, business owner Murray Robson has a comprehensive knowledge of all areas of landscape construction and plants. From sandstone paths to paved courtyards and timber decks for entertaining, pool surrounds and creative natural settings for children to play in, Murray can help you create the outdoor space you desire.
What sets Murray apart from other landscapers is his ability to work with stone. Murray has worked on exclusive houses throughout the Lower North Shore, Eastern Suburbs and Northern Beaches, crafting exquisite sandstone stairs, block walls, paths, pool surrounds, BBQ settings and garden edging, enhancing the appearance and value of properties and bringing years of enjoyment to their owners.
Whether you require an entire garden makeover or small amount of work to enhance your existing outdoor area, Murray is committed to helping you get the most from your outdoor space. He listens carefully to his clients' needs and offers advice at every step of the project. All work is overseen by Murray, reducing the need and extra cost of sub-contractors and giving you peace of mind as to knowing who is on your property.
To discover your own piece of paradise and transform your dream garden into reality, follow the stepping stones with Sacred Stone Landscapes.
Credentials
Murray studied architectural drafting at Otago University in New Zealand. After moving to Australia, he completed a Certificate Three in horticulture at Ryde Tafe. He holds a Structural Landscaping Licence from the Department of Fair Trading and has a current occupational health and safety card.
Sacred Stone Landscapes has comprehensive public and product liability insurance giving you peace of mind at every step of the project.
Testimonials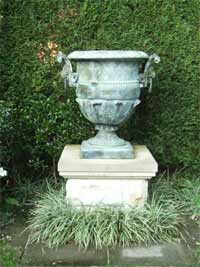 Sacred Stone Landscapes and Murray Robson came to us through word of mouth. We had no experience of sandstone paving so Murray was able to help us with suggestions about the type of stone and layout that would suit our courtyard best. Murray's suggestions were perfect.
Murray's attention to detail with our job was incredible: lining up the pattern in a courtyard that has no straight edges, distributing the pattern in the stone and the steps he crafted are truly beautiful. Most importantly, he cared about the job and he cared about us as clients.
Since we have had the sandstone laid, we spend most of our time outside enjoying our courtyard. I would not hesitate using Murray again. We invested a lot of money in our choice of sandstone but our best investment was using Sacred Stone Landscapes.
Louise Gleeson
Darlinghurst
Murray was recommended by our landscape gardener to replace our tired, dirty old footpath and garden edging as part of an overhaul of the garden.
While this was a simple project, it has been fantastically executed and transformed our "front yard" into a beautiful entry to our home, worthy of its prominent corner position.
Murray's communication (both up front and throughout the process) regarding recommended approach and associated costings, product selection and implementation were open and transparent and we are delighted with the end result.
We would have no hesitation recommending him and indeed, hopefully one day using him again for a pool!
Ian and Kirsten Delaney
Willoughby
Murray was very professional in all of our dealings with him. He arrived punctually to provide the quote and, although our requirements changed on a number of occasions, he was always happy to work with us and achieve the outcome that we wanted. The end result was excellent and we are more than happy with our new fence.
John and Carmen Burnside
Frenchs Forest
Enquiries
Copyright © 2007 Sacred Stone Landscapes, All Rights Reserved